I should start this blog with an apology for the amount of photos. I took 250 photos at Mesa Verde today. Managed to reduce it to about 50 to show here.

Mesa Verde, Spanish for green table, offers a spectacular look into the lives of the Ancestral Pueblo people who made it their home for over 700 years, from AD 600 to 1300. Today the park protects nearly 5,000 known archeological sites, including 600 cliff dwellings. These sites are some of the most notable and best preserved in the United States.

We started our day at the visitors centre. There were great views even from there at the bottom of the mountain.


We headed into the park. The road went up, up, up. Soon we had views for miles. Our first stop was to just look at the view.
We overheard one of the rangers telling someone else that about 50% of children did not live past their 3rd birthday. The boys were very happy they didn't live in these villages.
Starting before AD 975 this village was built, occupied, abandoned, rebuilt and reoccupied several times. Each time the people returned they reused some of the stones and chambers, adding to or remodelling rooms their ancestors built.
We were able to walk around in the village.
(We spotted a coyote to go with our Coyote Village viewing)
We then stopped at the Chapin Mesa Archeological Museum where we watched a 25 minute video about all the cliff dwellings.
Just outside the museum there were some great views of Spruce Tree House.
Spruce Tree House is the third largest cliff dwelling in the park. As one of the best preserved ancestral Puebloan sites in the Southwest, there are many examples of original architecture including intact roofs, floors, and original plaster designs in the dwelling.
Unfortunately we could not visit this cliff dwelling because of a rock fall last year.
We got our first family photo of the holiday.
Pit Houses date back to AD 550. Living partly below ground, the people who built this dwelling were literally settling into the earth.
We had a couple more scenery stops on the way down.
Back at the visitors centre the boys handed in their completed Junior Ranger booklets. The boys then did a pledge to pro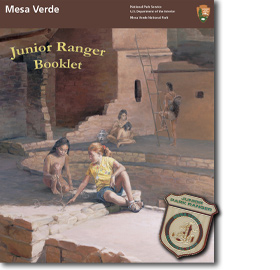 Showing of their new Junior Ranger badges.